Your cart is currently empty.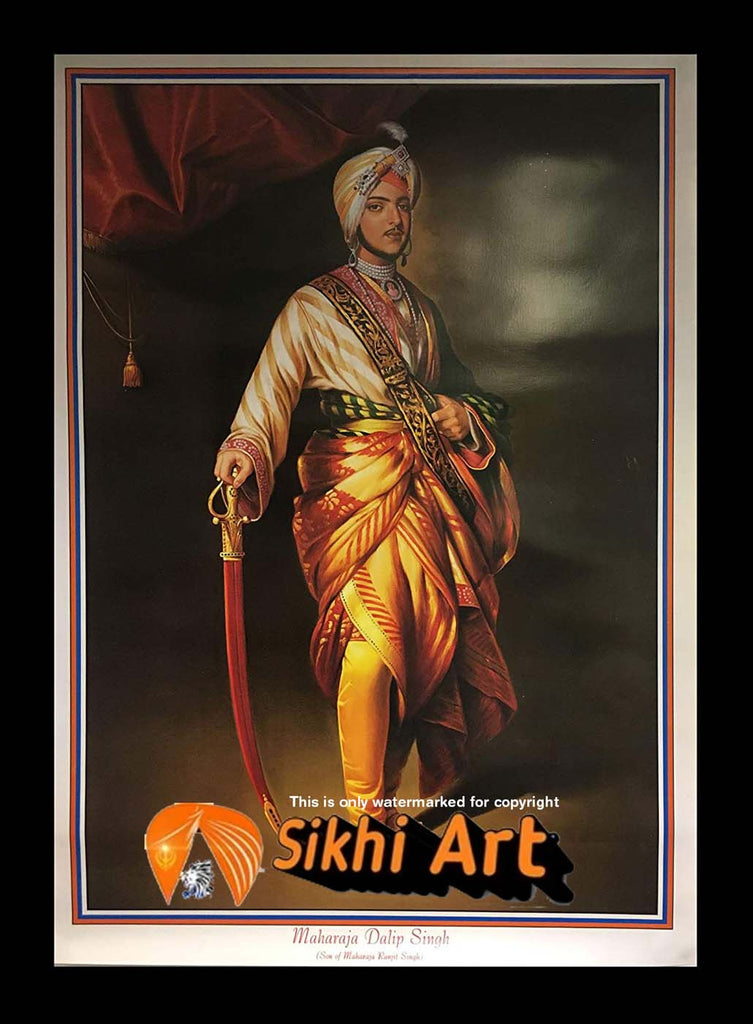 Maharaja Duleep Singh (6 September 1838 - 22 October 1893), also known as Dalip Singh and later in life nicknamed the Black Prince of Perthshire, was the last Maharaja of the Sikh Empire. He was Maharaja Ranjit Singh's youngest son, the only child of Maharani Jind Kaur. After the assassinations of four of his predecessors, he came to power in September 1843, at the age of five. For a while, his mother ruled as Regent, but in December 1846, after the First Anglo-Sikh War, she was replaced by a British Resident and imprisoned. Mother and son were not allowed to meet again for thirteen and a half years. In April 1849 ten-year-old Duleep was put in the care of Dr John Login. He was exiled to Britain at age 15 and was befriended and much admired by Queen Victoria, who is reported to have written of the Punjabi Maharaja: "Those eyes and those teeth are too beautiful" The Queen was godmother to several of his children In 1856, he tried to contact his mother, but his letter and emissaries were intercepted by the British in India, and did not reach her. However, he persisted and, with help from Login, was allowed to meet her on 16 January 1861 at Spence's Hotel in Calcutta and return with her to the United Kingdom.[6] During the last two years of her life, his mother told the Maharaja about his Sikh heritage and the Empire which once had been his to rule.

All frames are made to measure in our UK Workshop hence these frames are non refundable.

We can provide you with custom size or ANY SIZE TO ORDER as per your requirement basis.

Main Features:
This is a framed god's picture that can be used for worshiping in your home or temple.
This size of the picture is 40" x 28" with a 30mm wide moulding around the picture.
This Picture frame is for both stand or hang. Available in 6 Frame Colours: Oak, Gold, Silver, Black, White, Mahogany. Watermark on product image will be removed once picture is purchased, (due to copyright).
All frames are made to measure in our UK Workshop hence these frames are non refundable.
Best priced on the internet. If you need a custom design please let us know, we can make to measure any size frame. We have over 35 years of experience in manufacturing Picture/Photo Frames.

Feedback Policy
We want you to be 100% happy with your purchase. Please do not hesitate to contact us if we can help you any further.This is unlikely, but in case you have any issues with your frame, please contact us before leaving feedback, we will promptly sort it out for you.

Free UK Mainland Delivery
Provide free deliver in Mainland UK
Quality Products
We ensure the product quality that is our main goal
Online Support
We ensure the product quality that you can trust easily