Your cart is currently empty.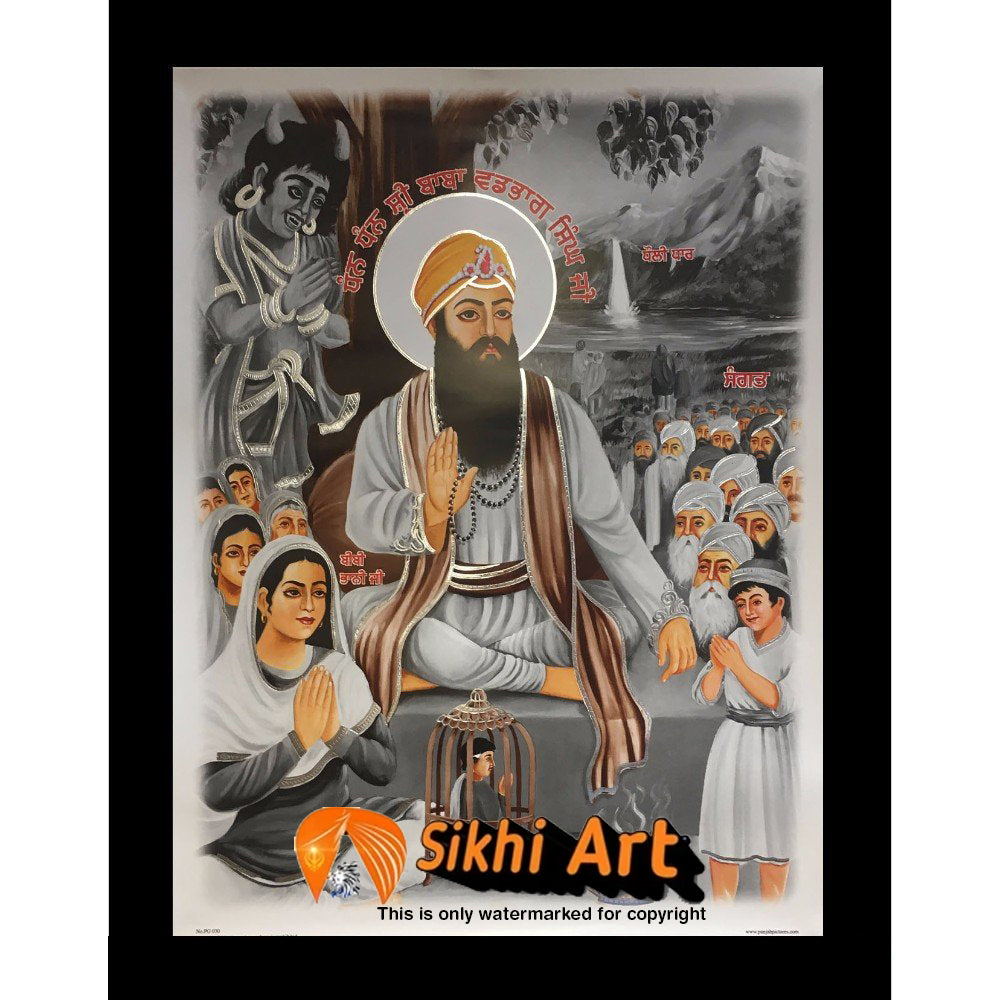 The word "Sahibzada" means "son" in Punjabi and is a term commonly used to refer to the 4 sons of Guru Gobind Singh, the tenth Sikh Guru. The word is a traditional word not used in the everyday language of today. The plural of the word is "Sahibzade" with a stretched "A" sound at the end. The younger pair, called the "Chotta Sahibzade" were martyred together by the Mughals in Sirhind at the tender age of 6 and 9 years old. The older sahibzade, called the "Vaada Sahibzade" died fighting the enemy of many thousands at the young age of 18 and 14 years old in battle at Chamkaur Sahib. Char Sahibzade, ("char" means four and "sahibzade" refers to the sons or scions, young men of genteel birth) is a term endearingly used for the four sons of Guru Gobind Singh, (Nanak X) all of whom died as martyrs while still very young. Their names are reverently preserved in Sikh memory and are recalled every time Sikh ardas or prayer of supplication is recited at a congregation or privately by an individual. The martyrdom of the four sahibzade is an important part of Sikh history and the occasion of their martyrdom is remembered and commemorated both with great vigor and very acute sadness, by large numbers of Sikhs, every year in December by the Sikh Sangat (holy congregation). The 21st and 26th of December are days that hold very dear memories for Sikhs around the world, for it was on these days in 1705 that the older sahibzade Baba Ajit Singh and Baba Jujhar Singh first set off for their heaven abode on the 21st and then on the 26th, as the delicate and tender light of the younger Sahibzade, Baba Zorawar Singh and Baba Fateh Singh was cruelly and inhumanely extinguished by the Mughal ruler of Sirhind.

All frames are made to measure in our UK Workshop hence these frames are non refundable.

We can provide you with custom size or ANY SIZE TO ORDER as per your requirement basis.

Main Features:
This is a framed god's picture that can be used for worshiping in your home or temple.
This size of the picture is 23" x 18" with a 30mm wide moulding around the picture.
This Picture frame is for both stand or hang. Available in 6 Frame Colours: Oak, Gold, Silver, Black, White, Mahogany. Watermark on product image will be removed once picture is purchased, (due to copyright).
All frames are made to measure in our UK Workshop hence these frames are non refundable.
Best priced on the internet. If you need a custom design please let us know, we can make to measure any size frame. We have over 35 years of experience in manufacturing Picture/Photo Frames.

Feedback Policy
We want you to be 100% happy with your purchase. Please do not hesitate to contact us if we can help you any further.This is unlikely, but in case you have any issues with your frame, please contact us before leaving feedback, we will promptly sort it out for you.

Free UK Mainland Delivery
Provide free deliver in Mainland UK
Quality Products
We ensure the product quality that is our main goal
Online Support
We ensure the product quality that you can trust easily